Making Waves – by Layton Shumway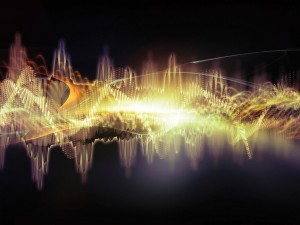 Up until a few years ago, science was the furthest thing from Brian Patchett's mind. He was too busy being a rock star.
Before he became one of Utah Valley University's brightest scientists, Patchett was a music industry veteran, playing guitar in touring rock bands and joining others on tour across the United States and Europe as a technician and stage manager. In between tours and shows, he managed an Orem music store, building new guitar amplifiers in his spare time.
"I had a friend who taught guitar lessons at the store," Patchett said. "He was a UVU student, and one day he saw me working on an amp and asked me for help on his physics homework. He said if I knew how to build amps from scratch, I'd be a way better physics student than he was."
After mulling it over – and with the pointed encouragement of his wife – Patchett entered UVU's physics department, where he now serves as a research assistant and brings his acoustics experience into the science lab.
With the assistance of UVU physics professor Timothy Doyle and other student researchers, Patchett has studied the use of ultrasound to levitate cells in suspension and test them for various diseases such as breast cancer, Alzheimer's disease, and autoimmune conditions. Patchett gave an oral presentation of his research at the 170th Acoustical Society of America Meeting in Jacksonville, Fla., in November – a rare honor for an undergraduate student. But those honors are frequent occurrences for UVU students, according to Doyle.
"People are shocked by the fact that the students I take to these meetings are undergraduates," Doyle said. "They're usually graduate students and post-docs. Everyone was calling Brian 'Dr. Patchett.' I think such experiences are invaluable."
That kind of experience can make a huge difference in applications to graduate and medical school programs, UVU senior Robyn Kiraomer said. "When I heard about Dr. Doyle's research…(read more)
Originally published on Utah Valley Health and Wellness