Getting on the Green – Ryan Rhees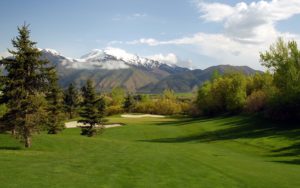 With beautiful weather now emerging from the chill of early spring, many locals are gearing up to go play in the great outdoors. There are many outdoor activities to choose from here in Utah Valley, and opportunities to try something new around every corner. Have you ever driven by a gorgeous green golf course and thought to yourself, "That looks like fun!" as you watch the players driving and putting in their beautiful surroundings? Perhaps you have even thought about trying golf, but weren't quite sure where to begin. Well, luckily for you, Utah Valley Health and Wellness got with PGA Golf Professional Ryan Rhees to find out what you need to know to get on the green. Here are his answers to some common questions beginners have about golf:
What kind of costs can a person expect to see to start playing golf?
There are a couple of answers to this question.  To go to a golf course and putt and chip at their practice area usually costs nothing, and you can stay and practice as long as you like.  To hit balls on the driving range will usually cost between $5 and $10 for a bucket of range balls. To play on the course gets a little more expensive.  It will generally run about $12-$15 for 9 holes walking, and $24-$30 to walk 18 holes.  Renting clubs, if you do not have your own, will cost about $10- $20 depending on the course.  To purchase clubs you will pay anywhere from $200 up to $2,000 for a set, depending on how expensive you want to go.  So the answer to the question is it can be expensive, but you can also practice your short game and hit balls on the range for much less.
Is it better to buy your own clubs or just rent a set?
 If you want to play more than a couple of times a year, it's better to purchase your own clubs.  As stated above, it will generally run between $200 up to $2,000 for a set of clubs and a bag—depending on how much you want to spend.  Most courses have rental sets, and here at Spanish Oaks we don't charge to use our rental clubs on the range or on the practice putting greens, we only charge to use them on the course.  So, if you are a beginner, you can come hit balls and use our rental sets to give golf a try before you go out and purchase your own set of clubs.
What are the different clubs and equipment included in a golf bag?
A standard set of clubs consists of 14 clubs.  Generally the set makeup is as follows: Driver, fairway wood, 1 or 2 hybrid clubs, putter, set of irons (4,5,6,7,8,9), pitching wedge, and sand wedge. The clubs that can hit the ball the farthest are the woods. The degree of loft (angle of the club face in relation to the shaft) increases with the number of the club. As the loft of the club increases, so does the height of the shot, which translates into a shorter distance the ball will travel. The wedges have the highest loft of any golf club. This allows the player to hit the ball short distances as well as get it high in the air.
Should you sign up for lessons or simply just "start swinging"?
You can certainly just come to the driving range and start hitting balls to see how you like it, but it does help to get some professional instruction at some point to learn the fundamentals of the golf swing.  Lessons can run anywhere from $25 – $150 for an individual lesson, or some courses offer group lessons for a discounted price.
Is it better to practice on a driving range or practice by playing rounds?
I think it is better to start on the driving range for a few practice sessions before going on the golf course.  This will give the player a chance to learn how to hit the ball and get used to it, as well as learn how far they can hit with the different clubs before getting on the course.  They should also do some practice around the practice putting green before going on the course…(read the rest of the story)
Originally published on Utah Valley Health and Wellness
Photo courtesy Spanish Oaks Golf Course