Make Family Meals a Routine Success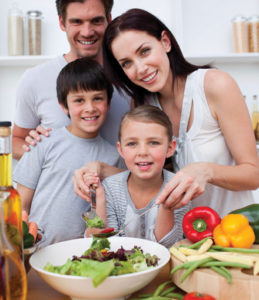 Backpacks, sharpened pencils, and carpools. Check, check, check.
The new school year is underway, and in a few more weeks most families will be settled into their new normal routine for the school year.
Are regular family meals part of your routine?
Consistent family meals are just as important to your student's academic and social success as homework and study sessions. Research is replete with the developmental benefits including better performance in school, fewer risky behaviors, and fewer eating disorders among kids who share meals with their families.
When kids and adults are engaged in food preparation and sit down to eat together, everyone eats more fruits, more dark orange and leafy green vegetables, more whole grains, more calcium-rich foods, and fewer sugar sweetened beverages and fast convenience foods.
Children and adolescents are actively growing and essentially building their body a little bit every day. What raw ingredients are provided for building materials?
Food nourishes more than our cells and body systems. It also transmits a sense of identity and culture. Food gives us an opportunity for connection.
Researcher and best-selling author Brené Brown, PhD, often states that humans are hard-wired for connection. Each of us requires genuine authentic connections with others to give meaning to our lives. Food gives us a common ground to nurture those connections. Eating with others improves our well-being nutritionally and psychologically.
To have successful family meals, consider the following suggestions:
Plan ahead
People who plan meals ahead of time eat better, weigh less, and have fewer incidences of chronic disease. When we sacrifice time to think deliberately about our food, we make better choices.
Try these time-saving tips:
Make a list of all the entrees your family enjoys eating and keep it in a visible place. When you're stumped about what to plan, consult your list instead of re-inventing the wheel.
Chop vegetables in advance on slow nights so they're ready to cook or have plated for dinner another night.
Take out meat to thaw the night before so something is ready to cook when it's time for dinner.
Try-slow cooker meals you can begin in the morning and enjoy later.
Double or triple an entree when you cook so you can have leftovers or freeze a whole batch to eat later in the month.
Prepare as much of dinner as you can while you're cooking breakfast or lunch so you have less kitchen clean-up at the end of the day.
Ditch perfectionism…(read the rest of the story)
Written by: Erica Hansen MS, RD, CD
Originally published on Utah Valley Health and Wellness