Pornography is an avoidance issue. There are some who believe that using pornography is about sex. I have had clients tell me over the years that, 'I used to use porn, but that was just because we weren't having sex. It was just a sex thing'. Many clients believe that this is the case. It is important to note that this simply is not true.
Pornography use releases dopamine in the brain. Dopamine is designed to feel good and help reward us for certain behaviors. Riding a bike, looking at a sunset, getting a good grade, eating good food – are all among the things that might release dopamine. Masturbation and orgasm release dopamine as well. When you use pornography, which is usually accompanied by masturbation and orgasm, you release more dopamine that your body is designed to take and it feels really good. People often use pornography when they are sad, tired, hungry, bored, etc… When these two things are paired, for example – being bored and then feeling better through dopamine through pornography use, an attachment is made. In the future, your body remembers that it can not feel bored if it uses pornography and gets dopamine. This then happens again and again and an addiction to avoiding boredom (or insert another uncomfortable emotion) is born.
Even if pornography use seems to be paired with not getting sex from your spouse, its still more about the loneliness you feel because of a lack of sex than the actual sex. You use because you are lonely, not because you are undersexed.
In therapy, a counselor who understands these principles will help you to build your emotional muscles so that you are not avoiding uncomfortable emotions. Rather, they will help you embrace them.
One of the most common phrases I hear as a couples therapist in Orem is 'I feel like…'. This is often paired with 'I feel that…'. Both of these phrases are very misleading in regard to relationships and communication. Many couples I work with in therapy will start talking about their marriage problems by saying something such as, "I feel like he doesn't care". This is usually followed by defensiveness from him where he would say, "I do care!". He then explains why he does care. The problem with the 'I feel like…' statement is that it sounds like you are talking about your emotions because you used the word 'feel'. The problem is that you followed it up with 'like'. This turns it into a thought rather than an emotion or feeling. Instead of talking about your feelings you are talking about your thoughts and they are usually blaming or at least focused on others rather than yourself. This is, seemingly, a safer place emotionally to be – talking about others instead of yourself. But it doesn't get a relationship anywhere and you don't improve your attachment as a couple by doing this. It comes across as trying to be the expert on or the boss of your partner – and that rarely goes well.
As a couple's counselor, what I suggest is to try to recognize when you say either of those phrases, (1) 'I feel like…' or (2) 'I feel that…'. Ask yourself, then, if you are trying to describe your emotions or thoughts. If you are trying to describe what you feel then drop the 'like' or the 'that' and just say, 'I feel _______'. Use one feeling word such as hurt, scared, betrayed, etc… Then you can describe this emotion more fully if you want – but keep it about you, not what you think about your partner. If you are trying to describe and thought then change your phrasing to (1) 'It seems like…' or (2) 'I think that…'.
This isn't going to fix everything, but will point you in the right direction and save you from some of your fighting as a couple.
Triston Morgan, PhD, is a licensed marriage and family therapist in Orem Utah.
When it comes to your relationship problems, early intervention is best – however, intervention at any point can still be helpful. Many couples come to therapy years after they probably needed to in the first place. I find that when couples wait it is more difficult to make changes and a lot of damage is done or at least unhealthy patterns already set. I often hear from each spouse that they have been struggling for decades. We work in therapy to undo patterns and habits that have been formed over long periods of time. It is possible to change the ways that couples interact. The sad thing about it is that they have lost a lot of time and also grieve for what could have been if they had sought help earlier. Some souses wait until their partner is ready to go to counseling. This can often be difficult as well because it keeps the willing spouse out of getting help they need – at least individually. My suggestion in this case, when one spouse is willing and the other is not, is for the willing partner to start their own therapy and hopefully the other will join. At least one partner is getting help. Eventually, the other might join. No need to wait, however, to start getting the help you need.
Triston Morgan is a couples counselor in Orem, Utah. He is a PhD, Licensed Marriage and Family Therapist and has been helping couples heal for close to two decades.
Transitioning from adolescence to young adulthood is difficult. You usually don't want to be told what to do – and most likely aren't reading this article. But parents of young adults might be because you are struggling to help your child grow and figure out how to navigate life away from the nest. Depression, anxiety, pornography, drug use, issues with school or work and issues with significant others are among many difficulties young adults face during that transition from high school to college or from serving a Church mission to being back in college. Over the years, as a counselor in Orem, Utah, I've noticed a few things that parents do who successfully help their child navigate this period. First, they give them space. Your child is going to make mistakes. Giving them space to do so shows that you trust them and honor their 'adulthood'. This doesn't mean, however, that you run the other way and cut them off. They need a safe place to come back to, in a consultative manner. They still need you to be there so they can process what is going on. They might not come right away, but they do come eventually. Make yourself available and reach out to them. You can't force them to share, but you can invite them. You can say to them, 'You might not want to talk, but just know that I am here for you and I care about you. I'm happy to listen if you want to share'. Second, they create emotional safety. When your child does share with you, you want to 'hold emotional space' for them by accepting, validating and reflecting what they are saying rather than telling them what to do. You might not agree with what they are doing or saying, but telling them they are wrong and then telling them what to do will close the door of them sharing at all. You want to help them figure things out rather than force them to think the way you do. You can, for example, validate the emotions they feel rather than the actions they are doing. Saying, 'I can see that breaking up has really been painful for you', rather than, 'Stopping going to church just because you broke up isn't going to help. You just need to keep going' can be helpful. You might not agree with their choices/actions, but you can certainly empathize and understand their emotions (that then led to certain actions).
Anxiety is a problem most of us face at some point or another. It isn't a question of 'if' we will experience it, but 'when'. Anxiety comes in many forms. It can be difficult to cope with when it is severe and difficult to detect when it is mild. There is a situation when anxiety is actually covering up, and is a reaction to, other emotions. Let's talk about how and when that is the case. There are primary emotions and secondary emotions. Primary emotions are our natural emotions to a situation. For example, feeling sad when you get a divorce is a primary emotion. In this example, you might also feel other emotions such as hurt, fear, confusion, betrayal, desperation, abandonment, despair, hopelessness, overwhelmed, etc. When these other emotions, in addition to feeling sad, become too much, a secondary emotion can come in to take the role of blanketing them so that you distance yourself or numb yourself from them. It covers them up so that you don't see them and seemingly don't have to deal with them. Anger is a good example of a secondary emotion. Anxiety, at times, can be, but isn't necessarily always, a secondary emotion as well. When you are feeling all of those things, anxiety can come and make you buzz so you don't feel them. In this case, it is secondary to what is actually going on. The trick, then, is to ask yourself, 'what am I really feeling' and recognize, feel and cope with your primary emotions. Dealing with anxiety alone won't be enough as it isn't the root of what is going on.
Pornography is often mistaken as a 'sex addiction'. Some have said to me that, 'If me and my wife just had sex more, pornography wouldn't be an issue'. This is a myth and false. It has less to do with frequency of intercourse and more to do with the emotions behind so many things. Pornography temporarily numbs someone from feeling uncomfortable emotions. It keeps them from feeling what is really going on in their life. It helps them avoid. For example, feeling rejected, alone and unseen is uncomfortable. Most people don't want to feel these types of emotion's so they try to avoid them. They might recognize that those emotions are present, but their main goal then becomes to get rid of them without first picking them up and experiencing them. The only way to do this is to numb yourself. You can't move something that you first don't have. You have to pick up the emotion if you are going to do something with it. That act is counterintuitive and difficult. Pornography is one way that people avoid feeling what is right there in their lives. It numbs them from feeling rejected, alone or unseen. But those emotions don't go away, however. They get buried and still influence us. Learning to feel uncomfortable emotions and increasing your emotional capacity is part of the solution to addiction to pornography. Simply stopping using pornography isn't enough to maintain a healthier lifestyle. Moving pornography out of the way only serves as a move towards creating more space to feel your emotions and therefore increase your emotional capacity.
One of my past clients would often talk about his depression as if he had a relationship with it. I started to believe that it was a real entity in her life. As if she interacted with it and that it did something for her by being there. She would refer to it as coming and going. She would often say that she hated when it showed up because it would ruin things.
I started to realize that she was part way down a path towards recovery with this mindset, even though she was hurting because of depression. Depression isn't something that a person is, but rather it is something that that a person experiences. It is outside of us (even though it feels like it is a part of us).
We started to work on externalizing this problem in her life by continuing to see it as something acting on her – from the outside. She was able to realize that she is not depression and that there is a part of her that is happy, willing and able. She was able to embrace this happy, willing and able side more often, despite depression pushing on her at times (and sometimes often!).
She started to learn how to let depression come and go in her life without debilitating her to the point where she couldn't function. This helped lessen depression impact on her. She still had depression come around, but it was a different visit when it did.
I once had a client who told me that they had done everything, but that they still struggled with pornography use. They described how they had been to counseling, gone to 12-step meetings, talked with their church leaders and even friends and family. He described feeling completely stuck and lost at how to fix what he thought was a big problem in his life. When I asked him about what else he was involved in he didn't say much. I asked if he were dating anyone or involved in sports or anything fun at school. He wasn't. It seemed that he was putting his life on hold until he got rid of pornography. After speaking to him more it looked like he didn't not feel worthy to enjoy anything because of the shame he felt because of his use.
At this point we had a lot of work to do. What I said to him next surprised him – I told him that I want him to do more of what he loves in life. I explored with him what he would be doing if he felt worthy to be happy and do fun things. I encouraged him to do these things whether he felt worthy or not. It was a difficult shift for him because he had bought into the traditional method of behavior change – which is to withhold something or to punish someone into changing. This doesn't work.
As he started to engage in life he felt strange and as if he were saying that he was ok with his pornography use. I told him that he can still hate his pornography use, but that he still deserved to be happy. This gave him freedom to enjoy things again. Eventually, after a lot of hard work, he started to realize that his life did not have to be defined by his pornography use – that he could still enjoy life and be happy while trying to let go of something he didn't want.
Many clients get to this point, but not without help.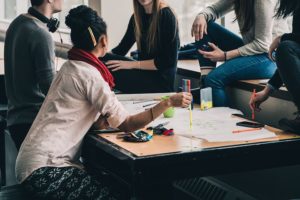 I often work with college students who have a difficult time transitioning to the workload, social aspect and emotional difficulties of being out of the home. Going off to college or leaving home for the first time can be complicated. Many young adults struggle to make the adjustment and need help. Those who make it to my office often have a family member urging them to get help, or they have realized that they need help an are proactive enough to get it (although this is more rare). I work with these clients to develop independent living skills so that they can function at work, school and with their friends, while maintaining a good connection with family at home. One of the reasons the struggle is that they haven't had a chance to go out on their own yet. It seems ironic, because now that they are out on their own, its too much for them. Don't worry – this is normal. Its ok to have a difficult time in this transition. However, its important to note several milestones as they progress:
Financial – are they able to financially manage their money without parents overseeing it all?
Social – are they able to balance their social life with work and school? Do they have a social life or are they secluded in their apartment"
Scholastic – are they able to meet the demands of school and ask for help when needed?
Work – are they working and are they able to maintain a job while engaged in the rest of their life?
If you answered 'no' to any of these, they might need help. See out a therapist who knows how to help young people transition here.
By Triston Morgan, PhD, LMFT
Someone once told me that when they finally got rid of pornography in their life, that they would 'miss it'. This is common for those struggling with this problem. The reason that this is is because you form an attachment with pornography. It is there for you when you are struggling with stress or problems in your relationships. It is there when you are bored or lonely. It gives you a powerful reinforcer when you use it. However, the aftermath of shame is so powerful ,that you are often left thinking – why did I do this again. I promised that I would never do it after the last time. This shame often leads you to use again, ironically.
Overcoming pornography isn't something that you can do alone. Many individuals will go through a cycle of using and then making a firm determination to 'never do it again'. Unfortunately, this isn't enough and many people become frustrated because of this seemingly never-ending pattern. Its important to include family members, friends support groups and professionals into your recovery so that you have the tools and support necessary to deal with this powerful behavior.