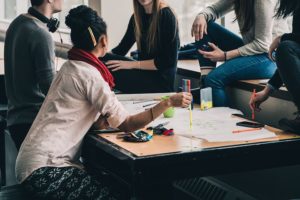 I often work with college students who have a difficult time transitioning to the workload, social aspect and emotional difficulties of being out of the home. Going off to college or leaving home for the first time can be complicated. Many young adults struggle to make the adjustment and need help. Those who make it to my office often have a family member urging them to get help, or they have realized that they need help an are proactive enough to get it (although this is more rare). I work with these clients to develop independent living skills so that they can function at work, school and with their friends, while maintaining a good connection with family at home. One of the reasons the struggle is that they haven't had a chance to go out on their own yet. It seems ironic, because now that they are out on their own, its too much for them. Don't worry – this is normal. Its ok to have a difficult time in this transition. However, its important to note several milestones as they progress:
Financial – are they able to financially manage their money without parents overseeing it all?
Social – are they able to balance their social life with work and school? Do they have a social life or are they secluded in their apartment"
Scholastic – are they able to meet the demands of school and ask for help when needed?
Work – are they working and are they able to maintain a job while engaged in the rest of their life?
If you answered 'no' to any of these, they might need help. See out a therapist who knows how to help young people transition here.
By Triston Morgan, PhD, LMFT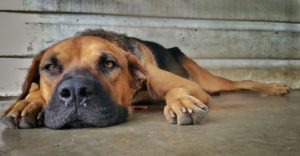 For most of us, depression is something that comes and goes. For a few of us, it's something that comes and stays – for reasons that we don't always know or understand. When we lose someone lose to us or have a situation that hurts, we might feel down. This type of depression can be situational more than anything else. This happens often after women give birth. For months following, they might feel down or blue. If they are able to pull themselves out of it through sleep, eating well, taking a shower, reading a book or some any other way that they use to cope, then its usually not post-partum depression. If it doesn't go away after these attempts, it can be something more serious and may need medical or professional help. Depression is the same way. We can't expect to pull ourselves out of depression on our own when it is the more serious type. Counselors are trained professionals who can help. Many of them will utilize the power of your relationships and invite your family to attend sessions. This helps because you are then able to connect to those who matter most and work it out together.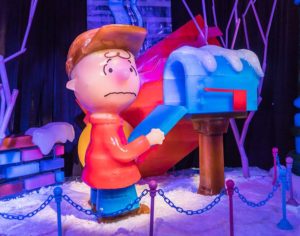 Every now and then, most of us feel down or blue – this is different than depression. Situational sadness comes and goes with whatever is getting us down. For example, if you don't get recognized for something you worked hard at, you will probably feel sad. After time, your sadness will start to disappear. It isn't as sad over time. This is situational. Depression, on the other hand, seems to last beyond these events. Even when something potentially sad has come and gone and if there is seemingly no reason to feel sad, you still might feel sad. This can especially be true in the winter. The days are shorter and colder. This causes most of us to stop moving as much, and to stay inside. We then lack exercise and sun light. On top of that, with the Halloween, Thanksgiving, Christmas and New Year's, we tend to eat food that isn't as healthy. We eat more sugar. This all contributes to feeling sad when we don't seem to have anything to be sad about. Seasonal Affective Disorder (SAD) is what happens to many people during the winter months. Most people don't realize they have this type of problem, they just think that they are down or blue. It is more than just having the 'winter blues'. It impedes you in your daily life and interferes with your functioning. Recognizing that you have SAD will help you know what to do to overcome and let go of it. Some of the symptoms include: feeling sad, losing interest once enjoyed, change in appetite, change in sleep (usually sleeping more), loss of energy, restless activity, feeling worthless or guilty, trouble making decisions, and thoughts of suicide or death. If you think you might have this type of depression talk with a therapist today.
Sometimes the holidays hurt. When we have lost loved ones or when we are reminded of what we used to have, the holidays can turn from joyous to painful. During these times, it's important to remember a few things. First, let the pain come in – embrace it. There is no need to try and hide from it or run. If we try to hide from it or ignore it, we often develop addictions to cover what we are feeling – ways to numb ourselves from uncomfortable emotions. In this numbed state, we don't ever get to embrace and subsequently let go of painful emotions. It's important to remember that in order to let go of something, we first have to have it (embrace it). Remember that these emotions come and go, they won't stay with us forever. Second, find a way to honor your loved ones who have gone on or circumstances lost. I spoke with a friend once who had dealt with the loss of a job and a more abundant life. During times when this was more apparent, he was able to be grateful for the relationship he had and focus on enjoying them above all else. After having material possessions and different opportunities pass him by he realized what is most important as he put his life back together. As he did this, he was able to be grateful for past opportunities and current blessings. Third, some find comfort in having what I call 'Present Mindedness' – the ability to be in the moment. We let ourselves enjoy the here and now without stopping ourselves because we need to maintain anger or sadness from the past or from other current situations. We don't have to punish ourselves – we deserve to be happy now.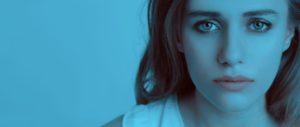 Couples often come into therapy for 'communication problems'. As a therapist for the last decade, I have found that this means many things – depression, anxiety, affairs, pornography use, among other issues. Outside of Utah County, pornography use seems to be more acceptable, or at least, less talked about as an issue. Is use in other locations less, or merely seen differently? When I speak with couples, this is something that is very painful and difficult to understand and overcome. There is a tremendous amount of shame associated with use. As we work in counseling to overcome the addictive cycle, the spouse who is using has to learn to attach to their partner instead pornography. This attachment is key to recovery and future success in a relationship. John Bowlby, an early psychologist, helped define attachment theory over his career. He found that they attachment between a child and a parent is crucial to the child's development. Likewise, the attachment between partners is also crucial. When couples are able to create a safe base or a safe haven, as Susan Johnson references in her Emotionally Focused Therapy work, they are able to be genuine and transparent with each other. They are able to show their imperfections to each other and be vulnerable and exposed because they know their spouse will accept and love them. This process is crucial to working with couples counseling for pornography use.
Effective pornography treatment often includes family members. As I have worked with hundreds of individuals struggling with pornography use over the years, I have found that those who have loving, supportive family members often have better outcomes. For example, couples therapy is often a good place for you to learn how to connect with others instead of checking out or numbing through pornography use. This is a difficult thing to do because your spouse is someone who has the power to reject you in a way that can really hurt. It is hard to be vulnerable in these circumstances because of this fear of being hurt or rejected. It is also difficult because you are also working to heal the pain your spouse feels because of your pornography use.
One thing that you need is someone to be a 'real' person to you. Pornography is a fantasy world where there are no consequences and where other people's emotions don't matter. This is why couples therapy is so important – your spouse becomes more real to you as you let her describe and share her pain with you. She becomes more real to you as she is someone who your actions impact. She becomes more real to you as her experience is just as important as yours. A husband can turn their wife into pornography by not letting her be real – discounting her experience and not asking to hear it. A wife, inadvertently, can turn herself into pornography for her husband by thinking that she doesn't want to stress her husband out by telling him about her feelings and therefore doesn't say anything even though she is hurting.
Consider the impact that working with your spouse can have on your recovery from pornography use. As difficult as it is to face these issues, it's a crucial part of your progress.
I am often asked the question, "Do I need medication?" As a counselor in Utah County, I work with couples, families, individuals suffering from depression, anxiety, pornography use, drug and alcohol use and other issues – all of which might need medication at some point. As a counselor, I am not trained to prescribe medication or do medication management, however, I often collaborate with practioners (i.e., MD's, nurse practioners) who are. Together we are able to help many individuals overcome anxiety or depression. Talk therapy (couples counseling or individual therapy) and medication are often a good combination to combat the issues that bring most people into therapy.
My colleagues who prescribe medications often tell me how medications act like crutches. They aren't meant for long term use or to be a 'fix-all', but rather, they are meant to give support so that an individual can gain strength. Once strong enough, the crutches are discarded and the individual moves on under their own power.
So, when clients ask if medication is warranted, I refer them to someone trained in this type of treatment. Medication is not always the answer, but there are times when it is best practice, however, to use medication and traditional talk therapy together (i.e., Bipolar disorder treatment). I refer them to see an MD, psychiatrist or nurse practioner. I encourage them to meet with someone who does Genetic testing for medications. This is a method where an individual submits a DNA sample which is sent to a lab for testing. The results show the individual and prescribing professional which meds are most likely to work with the individuals genetic structure (usually for anxiety or depression medications). My nurse practitioner colleague tells me that this 'takes the guess work out of medication management'. Given that the typical experience for individuals trying medications is months of trial and error, this is a relief to many.
Pornography use often leaves the user feeling empty and shameful. To deal with this shame of using in the first place, they might actually use pornography again to numb themselves. This vicious cycle is played out within minutes of each other or within days, even weeks of each other.
I am often asked by spouses of pornography users one simple and somewhat complex question, "Why can't they just stop using?" They tell me that they know that their spouse see's how it hurts them and how it is ruining their lives and relationships. After a husband talks about his remorse about using pornography, a wife will often follow up with, "Then just stop it". It isn't this simple, however. Studies have shown the impact that pornography use has on an individual's brain chemistry. Some would say that the brain and the person become hijacked – causing them to act in ways that they wouldn't normally act. This is the same phenomenon that would cause a grandson to steal his grandmothers wedding ring to sell for drugs. You are not yourself, seemingly. The cycle of pornography use doesn't make sense to those who are in it and doesn't make sense to their loved ones.
Fight the New Drug is an organization who educates the public on the harmful effects of pornography. You will find a lot of good resources to understand this addiction. Strangely enough, it is somewhat a controversial addition. It is not included in the DSM-V (the big book of mental health disorders decided on by experts throughout the country). Educate yourself so that you can make a little more sense of it. A good counselor will also be able to help you understand the nature of this addiction as they work with you and your loved one. As a therapist in Provo Utah, I often see clients in these situations. I have several colleagues at the Center for Couples and Families that are experts in this area of treatment as well.
As a therapist in Provo Utah, I often work with clients in a faith crisis. They come to me wanting to leave their religion or try to understand what they have been taught through a different lens. One thing I work with them on, inevitably, is letting go of some of the culture (real or perceived) that can accompany religion – the culture of pressure to be perfect or to at least appear so. Working with them to understand how to hold on to what they believe while letting go of certain surface level cultural aspects of living in an area which is highly religiously homogeneous. This can be a difficult task given the pressure to conform and follow.
My suggestions to individuals in these circumstances is to do the following: Differentiate between your religions doctrine and the culture. Most people see these as different. Understanding the difference will help you embrace what you believe and let go of what can be damaging.
Secrets fuel addiction. As I've mentioned before in previous posts, addictions, such as pornography addictions, are a shame based experience. This means that when someone uses pornography they feel as if they are a bad person, rather than feeling that they are a good person despite making a mistake. When someone feels shame, they often compartmentalize what they have done – they hid it and separate it from who they think they really are, or, think that that mistake totally defines who they really are.
This is where secrets come into play. Over time, a man (or woman – I've worked with both in therapy for pornography issues) who has been using pornography and feeling shame because of it will gather many secrets. He won't want to tell anyone what he is doing, or won't want to tell them all that he is doing. He might only present the best parts of himself or just tell enough about his mistakes to others to appease them or to feel like he is being open. But, in fact, he is keeping secrets. These secrets start to bury him and make him feel more shame. They take effort to maintain and keep hidden. They cause him stress and to feel disconnected from others. All of these things can lead to more addictive acting out.
Being transparent is key. This, in part, is why in the 12-step model of recovery (for alcohol, sexual addiction or substance addiction) addicts are asked to write a fearless moral inventory and to share it. Being open with others can feel uncomfortable and embarrassing. Many would say, "It's in the past – let it stay there" or, "I don't want to hurt her, so I'm not going to tell her about it". These mindsets only make things worse for someone using pornography and their spouse/family. Telling others and being transparent is on the path towards recovery.
Pornography counseling offers a venue to be transparent and honest with yourself and with your loved ones. A good therapist will help you through this process in a way that might be painful, but certainly not shameful.