What if I told you there is something you can do for just thirty minutes a day that will significantly improve your happiness and well-being, and add years to your life? Would you do it? Well, that "thing" is… you guessed it: exercise. Although exercise and physical activity are among the best things you can do for your health, some older adults are reluctant to exercise. Perhaps they are afraid that exercise will be too hard, or that physical activity will harm them. But studies show that "taking it easy" is much more risky. Lack of physical activity can lead to more visits to the doctor, more hospitalizations, and more use of medicines for a variety of illnesses.
Exercise has been proven to help prevent or delay many diseases and disabilities, including some types of cancer, heart disease, and diabetes. It improves health in the frail or those with diseases that accompany aging. It helps us with our daily tasks of carrying groceries, climbing stairs, and reduces our dependency on others. For some, exercise alone is enough to improve mood and relieve depression. It can restore flexibility, accelerate recovery from an injury, and give us the energy to walk farther and dance longer.
For the most part, when older people lose their ability to function independently, it doesn't happen just because they've aged…(read the rest of the story)
Written by: Michelle Wakefield
Originally Published on Utah Valley Health and Wellness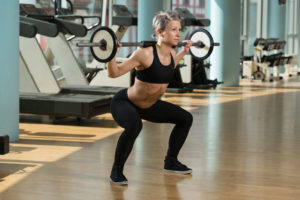 Tell me if this sounds familiar… You wake up, spend a long day at work, run several necessary errands, and end up coming home hungry and exhausted. You know you should go to the gym, but the thought of even putting your gym shoes on seems overwhelming, let alone working out. So why do it?
What is your why? Increase strength? Weight loss? Improve overall health? Knowing your why is what helps you dig deep, and push through those hard days. Regardless of your goal, strength training will benefit you, and I'm going to show you how.
First, let's clear up a big misconception. One of the biggest complaints I hear in regards to lifting weights comes from female clients who think they will resemble The Incredible Hulk after picking up a weight. That could not be farther from reality. Unfortunately, many male-readers are probably nodding their heads in affirmation to the hours spent in the gym trying to put on size. It takes a lot of time and work to build muscle, and it certainly doesn't happen by accident.
Here's how you can modify your strength training, no matter what your goals are.
The key is knowing how to adjust your lifts to accommodate your goals. I like to break it down like this:
| | | |
| --- | --- | --- |
| Goal: | How many? | How much? |
| Endurance | 15-20 | 40-60% |
| Hypertrophy (bulk) | 8-12 | 50-75% |
| Strength | 1-5 | 80% |
How many: This is how many repetitions should be done in a single set
How much: This is the percentage of your 1RM you should be lifting. (RM meaning repetition maximum, the maximum amount of weight you can lift in a single maximum effort)…(read the rest of the story)
Written by: Kelli Middleton
Originally published on Utah Valley Health and Wellness
As a scientist who studies concussion and does research on concussion treatment, I was recently asked what I would do if I needed concussion treatment. What questions would I ask, from my perspective as an expert? To answer this, my questions would focus on what I see as the four components of successful concussion recovery—diagnosis, assessment, treatment, and maintenance.
Diagnosis
How will my concussion be diagnosed? How will my concussion symptoms be distinguished from other potential health issues that might cause similar symptoms?
I would want to know what kind of health professional is best able to find answers to these preliminary questions, and what diagnostic tests will be used. A family doctor will typically be able to help get this process started and should refer you to a neuropsychologist, in the opinion of most concussion research experts. Among the tools that neuropsychologists use, a Functional Neurocognitive Imaging (fNCI) test is ideal. This is a type of MRI brain scan that can detect problems in brain functioning caused by concussion.
Assessment
After determining what my symptoms are, I would want to know exactly which parts of my brain have been affected, how that relates to the symptoms I am currently experiencing, and how my treatment will help my particular brain injury. A neuropsychologist, especially one who can use and interpret fNCI brain scanning, is usually best suited to do this assessment. In order for an assessment to be truly useful, it needs to go beyond being simply "informative" and give you and your medical providers a clear treatment plan for your individual rehabilitation program.
Treatment
Although post-concussion symptoms can vary widely from person to person, there are four general categories that scientists and doctors use to group common symptoms:…(read the rest of the story)
Originally published on Utah Valley Health and Wellness
Written by: Dr. Mark D. Allen
It amazes me how many people I see at the gym doing endless cardio—particularly those who are out of shape. Granted, some are training for a race, but most aren't. Regardless, you all deserve a big high five if you're putting in that kind of effort, because it can be exhausting.
I've often wondered why the general population resorts to this method when trying to get back into shape or lose weight. I think something inside us tricks our minds into thinking "if I sweat a ton, then I will lose fat." I have even found myself in this type of thinking. That was before I really started getting into anaerobic training (strength training/interval training). After all, isn't it as simple as calories in versus calories out? So, if I run and burn a ton of calories and cut my calories in eating, then voila, I will lose fat, right? That's not entirely true.
Too much aerobic exercise with a low calorie diet will result in decreased muscle tissue.  This is because you will use the muscle for energy and your body will start storing fat as a survival mechanism. This is bad. Your resting metabolic rate (metabolism) will drastically decrease. That is why most people gain their weight back so easily after throwing in the towel with the cardio routine, coupled with a low calorie diet.
The best approach to fat loss, whether you're male or female, is in this exact order: 1) A sound nutrition plan; 2) Strength training; and 3) Interval training.
Eating the right balance of healthy carbs, fats, and proteins with the proper portions and timing will allow you to…(read the rest of the story)
Originally published on Utah Valley Health and Wellness
Written by: Travis Lott
Since the 1950s, processed food has been touted as more convenient, easy, and, in some cases, healthier for us.  However, as we've seen obesity surge in the U.S., many have started to question, "What actually is good for us?" The recent focus on local foods may provide an answer and a path for Americans to return to healthier eating habits. Local ingredients are almost always more fresh, less processed, and less likely to contain chemicals that none of us know how to pronounce, much less what they do to our bodies.
Beyond the health benefits of buying local ingredients, there are a number of benefits to not only our bodies, but our economies.  At Communal, we are glad that we can get really fresh ingredients, but we're also happy to be supporting the local economy. Restaurants, consumers, and producers mutually benefit from buying local ingredients.  Most of these producers are small businesses owned by Utah natives.  Snuck Farms in Pleasant Grove, Christiansen Farms in Vernon, as well as Clifford Farm and La Nay Ferme in Provo are just a few of these smaller businesses that rely on local restaurants and consumers to continue to be successful.
In our restaurant, it is also notable to see the authenticity of the connection we have made to the ingredients we serve.  It is easier to treat an ingredient with care and respect when there is a real connection to the land.  I've been to these farms and met the families that run them.  When that connection exists, there is a certain thoughtfulness put into the preparation of an ingredient that has this sort of an origin story. In turn, that connection to the ingredient extends to the guests we serve. It's a way to show that there are indeed lots of great local producers, and that Utahans have access to them.
At home, buying and using local ingredients is easier than most people think.  During the summer, head to your local farmers' market, and you'll find that the produce is entirely affordable and usually more fresh than what you'll find in the grocery store.  Also, supermarkets like Harmons have been working harder to bring in local items.  Keep an eye out the next time you visit—local cheese, meat, and produce is available and usually marked. Making those thoughtful purchases to support Utah producers is good for our economy and good for your family.
As more businesses and local residents support the return to local food, we'll see healthier communities, and we'll also strengthen Utah's economy.  It's a win for all of us.
Originally published on Utah Valley Health and Wellness
Written by: Andrew Hansen
Instead of Utah Lake Parkway, try… Payson Lake Trail
Utah Lake is definitely a highlight in Utah County (and its namesake). But if you love Utah Lake, then you will fall in love with Payson Lake. Just 30 minutes south of Utah Lake, the one-mile trail winds around this beautiful mountain lake. Take a moment to take a dip in the cool water or catch a fish. Bring the family and a picnic and make the most of your hike!
 To get there, take the Payson exit off I-15. Turn left on 100 N and then right on 600 E, the Nebo Scenic Loop. The trail is 11 miles up the road.
 Instead of Stewart Falls, try… Scout Falls
Stewart Falls is a beautiful place to hike to any time of year, but few people know that there is another gorgeous waterfall not too far away. On the Timpooneeke trail, there is the scenic Scout Falls. This 2.4-mile hike takes you through forests and meadows before you arrive at the falls. It is a great date hike!
 To get there, take Highway 92 passing the toll booth into American Fork Canyon. Take the south fork until you see the Timpanooke turnoff. Take the turnoff until you arrive at the parking lot. From the parking lot, walk past the restrooms to the guard station. Then take the right trail on the west side.
 Instead of Rock Canyon, try… Days Canyon Trail
In Maple Canyon there is a fun hike, great for family and friends. The Days Canyon Trailhead is just up the right fork of Hobble Creek Canyon by Cherry Campground. This trail is 3.3 miles long, but can be 2 to 6 miles long, depending on how you combine it with other trails. The trail follows a stream and ends in a beautiful meadow.
 To get there, take Canyon Drive for 2.5 miles into Hobble Creek Canyon. Past the golf course, the road splits. Take the right fork for about 1.5 miles. The parking lot is on your right after Cherry Campground.
Instead of Provo River Parkway, try… Spanish Fork River Trail
An alternative to the Provo River Trail is the Spanish Fork River Trail. This 4.4-mile trail is less than a year old. It is great for running, strolling, or biking.
 To get there, take the Highway 6 exit off I-15 heading towards Price. Continue on Highway 6 for 4 miles and then turn right on Powerhouse Road. Park at Canyon View Park and join the trail there.
 Instead of Battle Creek Falls, try…(read the rest of the story)
Originally published on Utah Valley Health and Wellness
Written by: Sarah Toller
In speaking with Jared about his race experience, it turns out that he was not utilizing his statistics knowledge to determine his race pace.  It was more about how he felt during the race.  Jared said, "I went into the race knowing what pace I could run.  When they (Tyler Pennell, Galen Rupp, and Meb Keflezighi) took off faster, I realized I couldn't run that pace and decided to not cover their move completely hoping at least one of them would come back to me."  However, Jared did increase his pace from around 5:05 to 4:50, then back to around 5:00 for a while to not let them get too far away.  There are so many physical and psychological factors that go into performance that being too set on a specific pace will often lead to hampered performance.  Jared tries to combine what he knows about his ability and what occurs during the race, "I focus on balancing what others are doing in their strategy with the pacing strategy that I'm hoping for on that given day."
Among amateur racers, we often see more of a focus on reacting to what others do more than what is best for an individual strategy.  While watching the 2016 Utah High School State Championships for track and field in May, I noticed how many different strategies there were for pacing.
Lap splits are included in the results for the Utah State Meet.  Browsing through those makes it clear that pacing mistakes were made.  In some cases, a fast early pace leads to very slow final laps.  Other athletes begin the race very slowly and even with finishing fast, end up many places beneath their potential.
Overall, a nearly even pacing strategy through the majority of the race will lead to the best possible times.  In the 1994 Los Angeles Marathon, Paul Pilkington was paid to be a rabbit through 25km.  He went out at the correct pace, but the other athletes did not stay with him.  He felt strong and decided he might as well finish.  With a two-minute lead, he continued on at a similar pace.  He crossed the line in 2:12:13 winning $27,000 and a Mercedes.  After the race he had to rush home to teach his writing class at Washington High School the next morning and trade in his family van that had 100,000 miles on it.
Motivated runners can push themselves to the limits of performance.  Starting a race too fast and finishing with great effort, but a slow time is not nearly as fun at racing at the right pace and achieving a personal record.
Jared learned from his master's thesis that even experienced runners tend to start too fast.  He studied split times from the Saint George Marathon and found those that achieved their time goals had the third quarter of the race as the fastest, while the majority that failed in their time goals ran the first quarter as their fastest.  So, choose the right average pace from training results with a coach's help, run that pace early on, and see how your body responds in the final stages.
Originally published on Utah Valley Health and Wellness
Written by: Ian Hunter, PhD
My life is crazier than I ever though it would be. I knew I wanted to get married and have kids, but I didn't know I would want a career.  That is, until I found something I was passionate about.
I am an education specialist for Zumba, aka ZES. Here's a little sneak peak into my job: I work as a presenter at Zumba's yearly conventions and events, both domestic and abroad. I have choreographed and performed on a number of consumer products, as well as continuing education DVDs. I am a Zumba spokesperson, having represented Zumba on a dozen or more TV shows: Martha Stewart, So You Think You Can Dance, The Biggest Loser, and The View, to name a few, as well as selling our products on television networks QVC and HSN.
The reason I tell you this? I see my biggest calling in life to be a good wife and mom. When you add a career to the plate, it has the potential to get overwhelming and spin things out of balance. Not to mention, I have to get on a plane every time I go to work.
I have found my path to a happy, balanced life through a few tips and tools:
Keep priorities in check.
Family is always first. Zumba is what I do, it is not who I am. I am a wife and mom first. My husband and I discuss our weekly plans, set goals, and have a weekly date. This date is often times during the day—lunch or a matinee, and not overly glamorous. The purpose is to connect, connect and connect. Without teamwork everything else falls short.
Take one task at a time.
Putting your energy into what you have going on that day helps you be present, live in the moment, and eliminate regret. Overwhelming yourself with unchangeable details down the road only gets you…overwhelmed. If all I do is worry about my work, the flights, hotels, exhaustion, the time spent away, the things I will miss…I kill the joy of today due to the worry of tomorrow. I take one thing at a time and give it my best.
Create the life you want.
No one will…(read the rest of the story)
Originally published on Utah Valley Health and Wellness
The number one excuse I hear from clients for not exercising is "I don't have time."  One of the best things about high intensity interval training (HIIT) is that you don't need a lot of time. You can get great results with as little as 10 minutes of HIIT training.  In fact, a study done at McMaster University showed that 10 minutes of HIIT could burn the same amount of calories as 50 minutes of steady state cardio. And let's be honest, who doesn't have at least 10 minutes a day to spare?
The American College of Sports Medicine recommends that adults get 150 minutes per week of moderate intensity exercise. However, when the intensity level is increased to a more vigorous level, the recommendation is reduced to 75 minutes per week, making HIIT training much more time efficient.
So now that we have eliminated the excuse of not having time…
What is HIIT?
HIIT is short bursts of high intensity intervals where you push your body to at least 80% of its max up to all-out effort, followed by short periods of active or complete rest. The great thing about HIIT is it can be done almost anywhere! You don't need any equipment do to it. The main focus is pushing your heart to its max and keeping your heart rate up, which is often easier to do without equipment. You can use your body weight as resistance doing plyometric exercises or even just running…(read the rest of the story)
Originally published by Utah Valley Health and Wellness
The time is here. Summer is around the corner and you're planning your family vacations! Most of us have a lot of things to consider as summer approaches. Soon the kids will be out of school, and summer plans start to interfere with the day to day regimen that was so earnestly established.  How are you going to stay on target?  I'll let you in on a secret: You'll more fully enjoy your summer, family vacations, reunions, and the many other activities planned if you have more energy and feel good for those fun packed months by staying consistent with exercising. Take advantage of the long days, keep yourself accountable, find weather appropriate workouts, and stay hydrated! Below we'll go into further detail on each of these.
Lucky for us, when we set our clocks forward in March, we gave ourselves extra sunshine during the day and nice, cool, early mornings. Get out early for your exercise. You'll feel refreshed and ready for a day full of fun, and you'll skip the summer heat. If this time doesn't work for you, wait until the weather cools off in the evening.
Next, ask yourself why you are working out…(read the rest of the story)
Originally published in Utah Health and Wellness