Since the 1950s, processed food has been touted as more convenient, easy, and, in some cases, healthier for us.  However, as we've seen obesity surge in the U.S., many have started to question, "What actually is good for us?" The recent focus on local foods may provide an answer and a path for Americans to return to healthier eating habits. Local ingredients are almost always more fresh, less processed, and less likely to contain chemicals that none of us know how to pronounce, much less what they do to our bodies.
Beyond the health benefits of buying local ingredients, there are a number of benefits to not only our bodies, but our economies.  At Communal, we are glad that we can get really fresh ingredients, but we're also happy to be supporting the local economy. Restaurants, consumers, and producers mutually benefit from buying local ingredients.  Most of these producers are small businesses owned by Utah natives.  Snuck Farms in Pleasant Grove, Christiansen Farms in Vernon, as well as Clifford Farm and La Nay Ferme in Provo are just a few of these smaller businesses that rely on local restaurants and consumers to continue to be successful.
In our restaurant, it is also notable to see the authenticity of the connection we have made to the ingredients we serve.  It is easier to treat an ingredient with care and respect when there is a real connection to the land.  I've been to these farms and met the families that run them.  When that connection exists, there is a certain thoughtfulness put into the preparation of an ingredient that has this sort of an origin story. In turn, that connection to the ingredient extends to the guests we serve. It's a way to show that there are indeed lots of great local producers, and that Utahans have access to them.
At home, buying and using local ingredients is easier than most people think.  During the summer, head to your local farmers' market, and you'll find that the produce is entirely affordable and usually more fresh than what you'll find in the grocery store.  Also, supermarkets like Harmons have been working harder to bring in local items.  Keep an eye out the next time you visit—local cheese, meat, and produce is available and usually marked. Making those thoughtful purchases to support Utah producers is good for our economy and good for your family.
As more businesses and local residents support the return to local food, we'll see healthier communities, and we'll also strengthen Utah's economy.  It's a win for all of us.
Originally published on Utah Valley Health and Wellness
Written by: Andrew Hansen
Footloose and schedule-free sunny days are the hallmarks of summer living for many families. Your children and neighborhood friends bustle in and out of the house, you stretch out the evenings basking in the summer skies, and you relish the slower pace of life and the longer daylight hours.
But then, you schedule a family vacation.
You work and re-work schedules, sleeping arrangements, entertainment, campsite reservations, and credit card points. You beg and plead with the powers above that no one will fall ill, fall injured, or fall out of favor with other members of the family.
We all want to get a good return on our vacation investment in the form of fond memories. One way to improve your chances of a fun-filled trip is to feed your family so they are well fueled.
Sure, vacations are the embodiment of leisure and indulgence, but our food choices may spoil our celebrations if they make us sick or over-indulged.
Here are a few tips to stay safe and well fueled during your summer travels:
Fuel for Fun
Hot dogs, s'mores, snow cones, and cheeseburgers are all essential parts of an American family summer. However, in between these "essentials," fuel your family with nutrient-rich whole foods to keep them running at their best.
Here are a few nutritious on-the-go options:
Homemade or wholesome trail mixes – Think whole grain cereals, dried fruits, nuts, and seeds. A bit of chocolate can top it off nicely.
Nuts and seeds – Seasoned, spiced, or plain, if trail mix isn't your favorite.
Fresh veggies for dipping – Sugar snap peas, bell pepper slices, cherry tomatoes, baby carrots, broccoli, cauliflower, and celery dip nicely in hummus, guacamole, homemade greek yogurt ranch dip, or any store bought dressing in small to-go cups.
Low sugar, high fiber granola bars – like Kind Breakfast Bars.
Hydrating drinks – Water, 100% fruit juice boxes, V8 vegetable juice,  Kefir, and ready to eat smoothies like Naked Juice. Be sure to watch portion sizes on beverages other than water. Without the bulk of fiber, a little juice goes a long way.
Yogurt cups – Aim for low-sugar alternatives. Try plain yogurts with fruit mix-ins and granola.
String cheese or cheese wedges
Homemade or Healthy Choice popcorn
Peanut butter and almond butter to-go pouches
Fruit cups and pureed fruit pouches – You can purchase ready-made or make your own at home with reusable plastic pouches and cups. Try mandarin oranges in a pop-top can. Aim for choices packaged in 100% fruit juice instead of heavy syrup.
Fresh fruit – Clementines and apples are resilient travel fruits. Wash your fruits, except berries, ahead of time for convenience. Bring along nut butter or fruited yogurt for dipping.
Low-sugar dried fruit leather – like the Stretch Island brand that Costco carries.
Whole grain pitas, tortillas, and breads – for spreads, rolls, and wraps.
Flavored tuna foil packets – like the lemon dill or Thai-style from Starkist.
Follow Food Safety Protocol
Avoid dreaded food sickness downers by abiding by these food safety rules whether you're creekside in the canyon, car pooling with the kids, or curbside at the Ritz this summer:
Separate
Keep raw meat…(read the rest of the story)
Originally published on Utah Valley Health and Wellness
Written by: Erica Hansen MS, RD, CD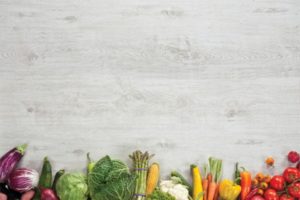 How many plants did you eat yesterday? Consider fruits, vegetables, nuts, seeds, and whole grains. These plant foods are the food groups most Americans do not get enough of. Less than 25% of American adults eat the recommended minimum of two cups of vegetables per day.
Sometimes food gets complicated with allergies, intolerance and disease, but more often than not we make nutrition more convoluted than it needs to be. The evidence supporting eating a diet rich in plant foods is overwhelming. We could all benefit from grounded, plant-based nutrition.
Getting Access to Great Plants
As the weather warms up, our options for great produce multiply. Aside from gleaning in-season produce at the supermarket, you may consider a few other options:
Community Supported Agriculture (CSA): This is a system that connects families with farmers. You pitch-in financially to help a farmer produce. You get to know your farmer and his practices and receive part of the crop. Learn more at csautah.org.
Buying co-ops: Grocery co-ops allow you to combine buying power with others in your area for lower grocery costs. One good produce co-op available across the nation is called Bountiful Baskets. You sign-up on the weeks you're interested, pay an agreed upon amount ($15) and receive two big boxes of fruits and vegetables. At times you can add on whole grain products and specialty vegetables like an Asian pack. Learn more at bountifulbaskets.org.
Community gardens: These can vary in formality. Church organizations, hospitals, non-profits, neighbors, and families can organize themselves and share a plot of land to garden. Clear guidelines should be established before beginning so no one is left with others' work or expenses.
Farmers' markets and farm stands: Utah County boasts several farmers' markets that give you the opportunity to shop local, fresh produce. Find them beginning in June at the Happy Valley Farmers' Market in American Fork, the BYU Market at LaVell Edwards Stadium, the Provo Farmers' Market, and Thanksgiving Point in Lehi.
Plant your own garden: If you have the time and means, planting your own garden can be rewarding, both physically and psychologically.
Gardening Benefits
Off-the-vine produce gives you maximum nutrition and flavor because you pick food when it is ripe and eat it fresh.
Gardening is a great alternative to getting a pet to teach your kids responsibility. They take ownership of their plot and plants, eat better because they are invested, and you don't have to wake up in the night to tend to the whimpering garden like you would a puppy. It's a win-win!
Garden produce not only provides lots of health-promoting vitamins, minerals, fiber, water, and phytochemicals, but also some much needed vitamin D (sunshine) and outdoor therapy. At our latitude we do not get many months of good vitamin D gleaning, so take advantage of good weather to stock up!
Gardening can yield cost savings in…(read the rest of the story)
Originally published on Utah Valley Health and Wellness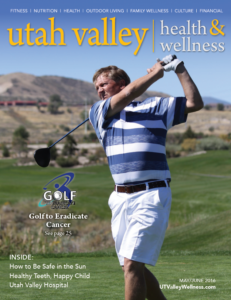 Check out our newest issue!
Local Utah Valley professionals give expert advice on a variety of health and wellness topics. Learn about healing pornography addictions, freeing yourself from headaches, nutrition, principles of healthy marriages and more.
Enjoy!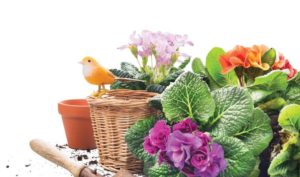 There are more than enough people around the valley willing to offer you advice or classes on gardening. But what if you knew the science behind all the garden advice/classes, so you could figure out the facts from the fiction, and have the best garden on the block? Well, I don't have enough space here to give you all the scientific information you would need, but let me share some great points that will get you a step ahead of the rest. We are going to go a bit beyond the basics of gardening.
Here is the "Thick List" of things to know:
HAVE A PLAN. This piece of advice really counts for a vegetable garden, but also works for flower gardens. Draw out where you will put what, and keep that plan so next year you have an idea of what was where. Also, take notes. What grew well, what did not, when you watered, disease and insect pressures, was it too sunny or too shady, how was your harvest, etc. The more time you spend on your notes and in your garden, the better you will become at gardening. You will learn from what you have done, and what you should have
REASONABLE GARDEN SIZE. A study showed that the gardening activity that consumed the most time was harvesting. This study showed that a garden size of about 10 x 10 ft was the ideal size for an average family.
SOIL ORGANIC MATTER. The key to a good garden is…(read more)
Originally published on Utah Valley Health and Wellness